I've done a lot of public speaking over the years and never had butterflies before a talk before, that changed this past weekend at TEDx Little Rock. This event was so well done and the list of speakers was very high profile (so you can imagine a goober like me tossed into that mix). Needless to say I was honored, and nervous… I was slated to be the first speaker for the first ever TEDx in Little Rock… no pressure right?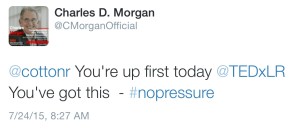 The format of the TEDx talks is also a pretty high-pressure environment. There's a huge clock ticking in front of you during your talk, you have these things wrapped around your ears and a clicker that doesn't sync up with your presentation exactly. Not to mention that I came home after rehearsals and revamped my entire presentation one more time…
At the end of the day I wasn't 100% satisfied w/ my talk, I don't know if speakers ever really are satisfied –but on a good note I've received hundreds of texts, voicemails, and emails from people that were intrigued by some of the points I made and have a few interviews coming up with publications to continue the conversation.
I was honored to be chosen to speak on the topic of Agriculture and Technology and hope that everyone enjoyed it… and don't worry, I haven't chased anyone in my underwear w/ a shotgun in over 20 years. (you have to watch the video to figure out where that came from).
This event was also the first time that my parents had ever heard me speak before, which was kinda awesome, and kinda nerve-wrecking at the same time. It was probably obvious to the rest of the group of speakers during our rehearsals that I was frustrated after my first run through but after making it through the talk that morning and having that "monkey off my back" it was nice to get some congratulations from the other speakers…
Below are a few photos from the event: