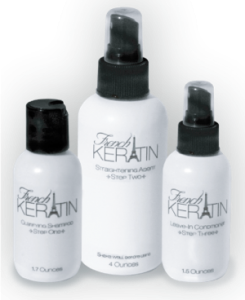 We are pleased to announce our newest brand, French Keratin. This amazing product for hair straightening is poised to revolutionize the industry. Some of the benefits of the French Keratin at Home Hair Straightening System include:
Easy to use – four step process.
Combines leading edge science with fashion and style.
Reduces curls, wave and frizz by up to 90% for a duration of 60 to 90 days.
Amplifies and seals in the shine of hair that has been colored or highlighted.
System soothes, smooths, straightens and softens – curly, wavy, frizzy, unmanageable hair.
Formulated with blends of botanicals, sugars, collagen, keratin, vitamins, herbal extracts and proteins to rebuild damaged or chemically treated hair.
Creates hair that is stronger, softer, healthier and more manageable.
Repairs chemically and environmentally stressed hair.
The formula is safe, formaldehyde / aldehyde free.
Makes combing, brushing and styling easier.
Reduces daily styling time by up to 40 percent.
Saves money, time, and travel expenses on salon and spa visits.
Professional salon results without the cost and inconvenience.
French Keratin is an upscale line of professional salon quality hair care products focused on the at home "do it yourself consumer" market. The product line is a unique at home keratin hair straightening product system that is FORMALDEHYDE and ALDEHYDE FREE, safe, easy to use and effective for everyday consumers to use to straighten their hair.
For more information, please visit our website: frenchkeratin.net. Also, for a limited time, if you take our hair care survey, you will be entered into a competition to win one of 10 Remington Keratin Infused Flat Irons that will be given away on March 15th, 2016.