FBN Crop Marketing… Launches June 6th.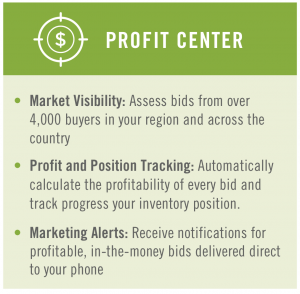 When I speak to growers, one of their biggest frustrations has to do with marketing their crops. On June 6th we will be rolling out a new product for our members that I think will be our most disruptive product launches yet. Imagine being able to track your input costs for the season alongside current grain prices from elevators in the region.
In our early testing of this product we've learned that in some cases a grower can sell his grain to a buyer several counties over and make a higher profit –even with fuel and trucking costs added in. This new product will continue to evolve into a very robust application for those that buy or sell grain. To learn more, please download this handout or give me a shout: (501) 206-1664.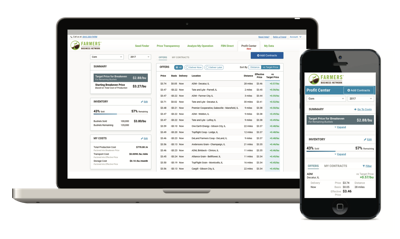 Headlines this Month…
Same Seed w/ Different Brands & Lower Prices
A few weeks ago we reached out to our growers to have them send us their seed tags so we could build a database of seed variety data. The results from this project have been mind-blowing. In multiple cases we've been able to locate the exact same seed & genetics (under a different brand) for a much lower cost.per bag. To learn more, click here to see our first blog post as well as our second and third follow-up posts.
The FBN Opps App + Chemical Plan Builder
When I first demo'd the new FBN Opps App I immediately recognized its value to farmers that I work with on a daily basis. This app will allow you to collaborate with other members of your crew to make notes, track planting, scouting, and spraying data that is then synchronized with your FBN account in the cloud. The FBN Opps App also allows you to view your precision data for your fields as well. The app is available on iPhone and Android. Recently we released a blog post on recording tank mixes w/ your FBN Opps App, click here to learn more. Another new feature that we have released recently is the FBN Chemical Plan Builder. This data is incredibly valuable and can be interacted with via your FBN account dashboard, or via the FBN Opps App.
The past two days I've had the opportunity to attend meetings w/ growers from around the mid-south and most that I spoke with were trying to finish planting or waiting on their fields to dry so they could replant what they had lost earlier this month to flooding. Needless to say, this year has already been pretty stressful –and we are just getting started. As we transition from planting to in-season, if I can help you save money on chemicals, please don't hesitate to give me a shout, (501) 206-1664. I'm always happy to quote prices (day or night, even weekends), but I highly recommend downloading our FBN prices app for your iphone or android. This incredible app allows you to search for chemicals and discover what others are paying for that same product (based on actual invoices submitted from our members). In addition to price transparency, the app will also help you locate generic names for products with the same active ingredients at a fraction of the cost.
FBN + FarmSource = Best of Both Worlds… 
FBN℠ members can now access reduced prices on products currently in stock and available for pickup at your local Farm Source Ag warehouse. Additionally, members with existing financing terms through FBN Finance may qualify for lower annual interest rates for any future purchases through both FBN Direct and FarmSource Ag. To get the reduced price list, give me a call: (501) 206-1664.
By being an FBN member, you can purchase in-stock products you normally buy from FarmSource Ag but at an FBN member discount!

Annual Interest Rates FIXED at 5.25%, due December 15, 2017 – For qualified members only*

In order to qualify, members must be customers of FarmSource Ag as well as pass a credit check when applicable.

Rates and terms are subject to change.

This promotion may be discontinued at any time. Learn more about how we work together to benefit mid-south growers, click here…
Meetings & Clinics this Summer…
We are looking to do a series of clinics in the Mid-South when things slow down a bit for everyone. If you are interested in learning how to get the most from your FBN membership, or to get help w/ your farm's data (planting or harvesting), or to just get setup for our new crop marketing product, let me know and I will add your name to the invitation list. Stay tuned for upcoming dates and venues.
Decisions 2017 – Memphis, Tennessee – July 18th  
Also, while we are on the topic of crop marketing… don't miss out on Decisions 2017 / Grain Marketing Seminar in Memphis on Tuesday, July 18th w/ Richard Brock of Brock Associates and the Brock Report. I will be at the event so if you are planning on attending –please be sure to drop me a note so we can plan on meeting.
If you haven't signed up for your FBN Membership yet (best value in agriculture) and are ready to do so, just give me a call (501) 206-1664 and I'll be happy to get you on-boarded and will schedule a farm visit to get you up and running.
Hope to hear from you soon!