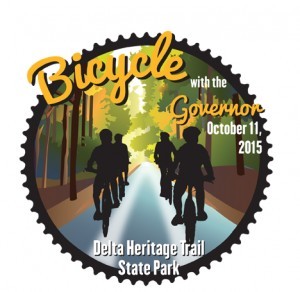 I'm pretty excited about an awesome event coming up on October 11th in my hometown of Lexa, Arkansas! We are going to have our awesome governor, Asa Hutchinson, riding the Delta Heritage Bike Trail (that runs by our family farm). If you are unfamiliar with this trail, it's one of my most favorite places to ride bikes! When I was growing up it was an active railroad track that we used to hunt rabbits on as kids but a while back it was converted into an awesome bike trail.
Kim Williams from State Parks recently posted these details about the event…
Arkansas Governor Asa Hutchinson invites bike enthusiasts to join him and experience the beauty of the Delta Heritage Trail State Park near Helena-West Helena on Sunday, Oct. 11. The "Bicycle with the Governor" event is an opportunity to enjoy this Arkansas Delta park, as well as a fundraiser for the Boys and Girls Club of Phillips County. The event begins at 1:30 p.m. at the Delta Heritage Trail State Park visitor center, located at 5539 US Hwy. 49 in Barton. Governor Hutchinson will ride a five-mile loop along the trail, which is crushed, packed limestone, perfect for hybrid, cruiser or mountain bikes (narrow-tired road bikes are not recommended). The public is invited to ride the trail with the Governor. Bring your own bicycle and helmet. Water will be available. For more information on "Bicycle with the Governor," contact the Delta Heritage Trail State Park at 870-572-2352.
I'm looking forward to personally thanking Governor Hutchinson for his work recently on establishing relationships with Cuba on behalf of Arkansas farmers as well as the framework he has put into place to teach our children to code in the schools!